Competitive Baseball for the Central and East of Ottawa for Youth Players
The Bytown Dodgers Baseball Club (BDBC) is fielding teams for baseball players between the ages of 9 and 18 looking to play competitive baseball at the A/AA level in our boundary region of East Ottawa and surrounding regions. The Dodgers program includes extensive training and development to compliment summer play time.  Twice weekly training and fitness sessions begin indoors shortly after tryouts, and once diamonds are available, will continue outdoors for the remainder of the season.
The Dodgers are a local team in the National Capital Ontario Baseball Association (NCOBA), which is an affiliate association of the Ontario Baseball Association (OBA).
Congratulations to all 6 of our Dodgers 2020 teams for a great NCOBA season!
Despite all the challenges of the pandemic, our Dodgers organization managed to field teams at all levels for the first time in 2020. We had teams from Rookie to 18U and they all performed amazingly! We are so proud of all our Dodgers athletes!
2020 Fall Baseball Update
The Bytown Dodgers will run fall baseball at as many levels as numbers permits. Our registration for fall baseball for 2020 is now closed and roster information will be provided to families shortly.
2021 season tryouts!
Starting on September 12 we will be running tryouts for our 2021 teams. Please register online. All players have to fill out online forms before they can participate in the 2021 tryouts and must abide by COVID protocols that will be communicated to them following their online registration.
Please register at: https://forms.gle/UFnqoJUkvcydKzT97
Hope to see you there!
Save the dates!
9U and 10-11U tryouts: September 12, 11am-2pm
12-13U tryouts: September 19, 1-4pm
14-18U tryouts: September 28, 7-10pm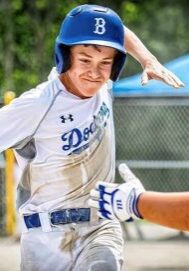 For current Bytown Dodgers news and happenings, please visit our: